This virtual symposium includes a week-long poster presentations from 09/14/2020 – 09/18/2020 and a half day event including center faculty talks and External Advisory Board (EAB) meeting on 09/21/2020.
Po

ster
Session
September 14 – 18, 2020
Poster Preview: All participating posters will be displayed on the CMCF center website from Monday, 09/14/2020 through Friday, 09/18/2020. All center faculty, fellows, affiliates and the External Advisory Board (EAB) members are invited to preview the posters.
Poster Session: There will be two 2-hour poster sessions during the week of 09/14/2020:
         Session 1: Wednesday, 09/16/2020, 1pm – 3pm
         Session 2: Thursday, 09/17/2020, 10am – 12pm
During the poster sessions, the poster presenters will be available through the individual zoom links listed under each poster. By joining the individual zoom meeting, the poster attendees can meet with the poster presenters virtually on a discussion of each individual poster. 
Symposium & EAB Meeting

September 21, 2020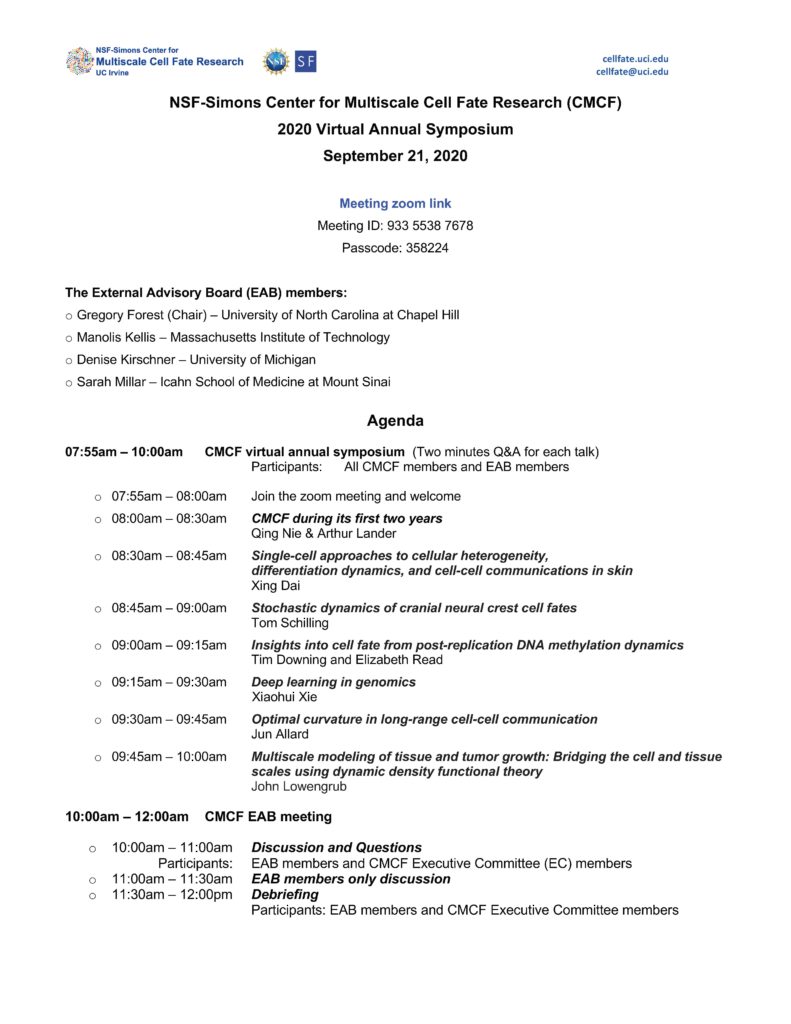 Best Poster Awards
The 2020 CMCF poster awards are given for the best poster presentations. Posters are judged by the poster award committee, Drs. Arthur Lander, Xiaoyu Shi, and Jing Zhang and awarded in the following four categories.
Best Exciting New Result
Probing antiviral drug Remdesivir impacts on SARS-Co V-2 RNA polymerase function 
Moises Romero, Chunhong Long, Daniel La Rocco, Anusha Mysore Keethi, Dajun Xu, and Jin Yu
Best Example of Interdisciplinary Research
Study of nucleosome dynamics in response to signal dependent transcription factor binding
Jinsu Kim, Katherine Sheu, Alexander Hoffmann, and German Enciso
Best New Method
scMC learns biological variation through the alignment of multiple single cell genomics datasets
Lihua Zhang and Qing Nie
Best Scientific Communication
Mathematical Modeling of DNA Methylation to Investigate Multigenerational Epigenetic Stability: A Research Proposal
Kwadwo Bonsu, Timothy L. Downing, and Elizabeth L. Read