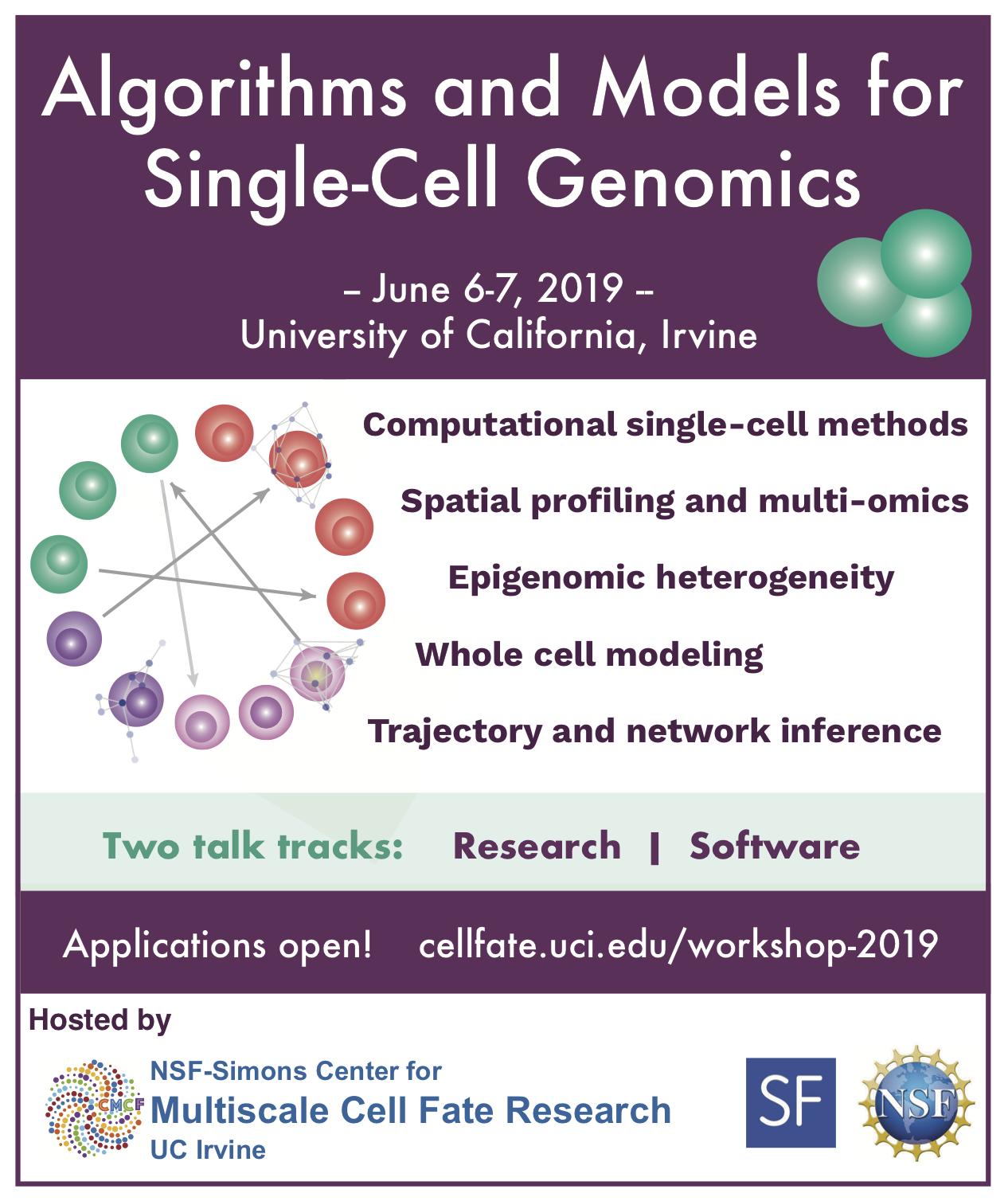 Details
Date: June 6 – June 7, 2019
Venue: University of California, Irvine (map)
Fee: The workshop is free but space is limited; preference given to those who submit abstracts and apply early.
Registration: Registration for the meeting is now closed.
Keynote Speakers
The AMSCG Workshop is organized by Adam MacLean (USC) and Luca Pinello (Harvard).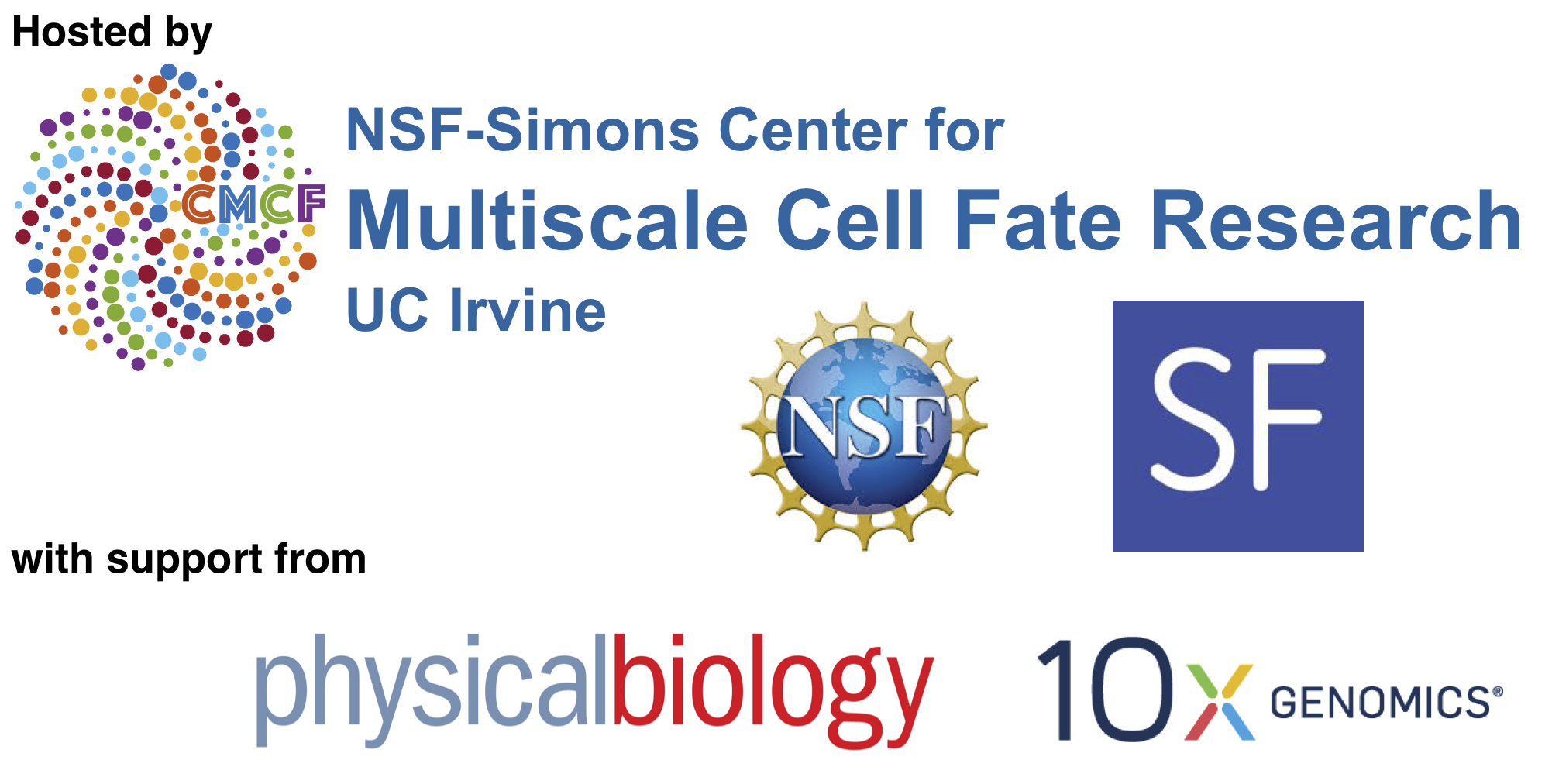 Description
The incredible pace of development of single-cell sequencing technologies* has led to great demand for new methods and models to make sense of these data and predict new phenomena.
The NSF-Simons Center at UCI is excited to host a two day workshop on Algorithms and models for single-cell genomics. We are bringing together the next wave of single cell technologies with mathematical and computational expertise to address compelling biological questions. We are building a computational community within single-cell biology. We are passionate about inclusion and early-career-researcher involvement.
Participation: the deadline for abstract submissions has now passed, but a limited number of participatory places are still available: apply here. The workshop will feature poster sessions and talks presented under two themes: RESEARCH and SOFTWARE.

Travel & Accommodation
Traveling to Irvine is easy and convenient!
AIRPORTS
John Wayne Airport (SNA). John Wayne Airport is located just 4 miles from UC Irvine. Most major carriers service this airport.
Los Angeles International Airport (LAX). Los Angeles International Airport is Southern California's major hub and serves as the international airport of choice. LAX is located approx. 40 miles from UC Irvine. All major carriers service this airport.
Long Beach Airport (LGB). Long Beach Regional Airport is located approximately 25 miles from UC Irvine. Jet Blue Airlines and Southwest Airlines are the primary carriers who service LGB.
HOTEL ACCOMMODATIONS
Participating hotels and rates are listed below. Please note that all discounted rates listed below are based on single occupancy and does not include taxes or other fees. Additional fees may apply.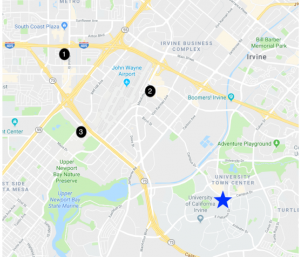 1. Crowne Plaza Hotel, 3131 Bristol St, Costa Mesa, CA 92626 — $119-$139/night
Crowne Plaza Costa Mesa Reservation Booking Link.
You may also call Giovanna direct at 714-913-9058 or email request to gcastellanos@cpcostamesa.com Please mention NSF – Simons Center at UCI.
Complimentary American Breakfast Buffet Voucher per morning ($15.95 value)
Complimentary parking ($14.00 value)
Complimentary Orange County Airport (SNA) Shuttle Service
Complimentary Hotel Shuttle Service to UCI (Subject to availability)
2. Atrium Hotel, 18700 Macarthur Boulevard, Irvine, CA 92612 — $114/night
For online bookings, visit www.atriumhotel.com and enter promo code "UCI". Tel: 800-854-3012.
Complimentary Shuttle to and from UCI and John Wayne Airport, & all other locations within a 3 mile radius by request only
Complimentary hot breakfast, up to two travelers
Complimentary Wi-Fi in all guestrooms & public spaces of the hotel
Complimentary self-parking
3. Ayres Hotel and Suites Costa Mesa, 325 Bristol, Costa Mesa, CA 92626 
UCI 2019 Rate: $120 for Deluxe Guestroom, $140 for Junior Suite (single/double occupancy).   Reservations can be made online here. Tel: 800-322-9992 (Sales Fax: 714-549-3741)
Complimentary Wireless Internet Access in guestroom & public areas
Complimentary Freshly baked cookies in lobby each evening
Complimentary self parking
Shuttle to/from John Wayne Airport and UCI (subject to availability)
Contact: for any other questions about the workshop write to cellfate [at] uci.edu with 'AMSCG 2019' in the email subject.